Send Inquiry
Monochrome TFT LCD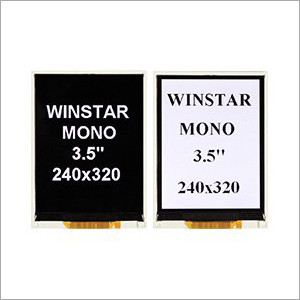 Monochrome TFT LCD
Monochrome TFT LCD Panel

A type of monochrome display, the Mono TFT LCD we offer is used in active matrix TFT technology and provides a low cost alternative to color displays that offer an enhanced viewing over traditional STN graphic displays. Speaking solely in terms of response time, brightness and contrast, mono TFT displays edge ahead compared to monochrome LCD modules. The advantages offered include the following:

Very high contrast: 800:1 or 900:1
Brightness: 500~ 1000cd/m2
Available sizes: 3.5", 5.7"and 6.2"
Wide viewing angle

Unlike color TFTs, monochrome displays offer a much better contrast ration and find application as high performance displays finding both industrial and automotive applications. The performance characteristics offered by such displays are similar to color TFT's even though driving such displays is far less complex.
Technical Specifications:
Model No.

Size
(inch)

Outline Dimension
(mm)

Viewing Area
(mm)

Active Area
(mm)

View Direction

Interface

Built-in Controller

Control-Board

Brightness
(cd/m²)

Frame Through Hole

Touch Screen

Temperature
(°C)

WF35NTVAJDNN0

3.5

62.9×86.54

56.16×73.04

53.28×71.04

VA Glass

MCU

ST7511

No

500

No

No

-30~80

WF57STIACDNN0

5.7

160×109

118.28×88.64

115.2×86.4

12H

MCU

ST7511

No

1000

Yes

No

-20~70

WF57STIACDNT0

5.7

160×109

118.28×88.64

115.2×86.4

12H

MCU

ST7511

No

700

Yes

RTP

-20~70

WF57STIACDNG0

5.7

160×109

118.28×88.64

115.2×86.4

12H

MCU

ST7511

No

800

Yes

PCAP

-20~70

WF62ATXGRDNN0

6.2

170.32×88.3

141.6×73.4

140×70

VA Glass

MCU

ST7511

No

600

Yes

No

-20~70